Reiki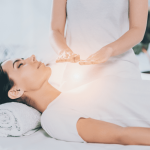 Booking Information:
£60 one hour sessions
How to Book:
Contact Ann Direct
07984 268975
Ann ("The Wellbeing Practitioner") is a qualified Hypnotherapist, Reiki (USUI) Energy Healer, and Sound Practitioner, with over a decade's experience.
Having been part of the fast-paced, corporate world in London for over 20 years, Ann became aware of the need to find her own inner peace; it was during this time that she discovered Reiki and Hypnotherapy, both of which have been invaluable in supporting her to overcome personal challenges. This experience set her on a course to study these and other complementary well-being therapies, including breath work and Neurolinguistic Programming (NLP), and to develop a powerful and non-invasive toolkit to support others.
Ann is based in East Sussex and is excited to deliver tailor-made wellbeing therapy packages to her many clients. She is passionate about helping clients to successfully discard self-limiting beliefs and believes that finding connection between our minds and bodies can help restore wholeness and harmony and help steer us back to our true authentic selves. Ann tailors each session to the client's needs and requirements. You will leave the session feeling wonderfully held, connected, restored, and 'present'.
Contact Ann at  lotusflowerwellbeing@gmail.com to book a free 15-minute call over Zoom/Teams, to explore which treatment or package is suitable for you.
Ann is also offering
Neuro-linguistic programming (NLP) 

Breathwork

Reiki Master Teacher – Teaching & attunement of Reiki 1,2,3

Reiki (USUI) with crystals and sound healing

Reiki Drumming Healing, Journeying  

Angelic Reiki

Sound Therapy

Shamanic Energy Healing, Journeying, Past life, Soul Retrieval, Ancestral Healing

Meditation incorporating Cacao ceremony