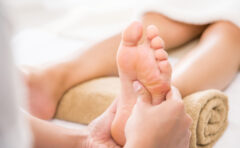 Booking Information:
45 Minutes: £40
Call direct to book a session
Hayley;  07826744151
Recommended for:
Anyone at any age! From a newborn to those receiving end of life care.
Reflexology
Reflexology also known as Zone Therapy is a non-intrusive complementary therapy.  A Reflexologist works on points on the feet, lower leg and hands, and may also be performed on the ears and the face.  Reflexology dates back to ancient Egypt, India and China. It was introduced into the western world in 1913.  Reflexology is a natural healing art based on the principle that there are reflexes in the feet, hands and ears which correspond to every part, gland and organ of the body.  Through application on the reflexes, the feet being the primary area of application, this causes a stimulation in the body to where the reflex point is related to.  Reflexology can be received by anyone at any age with many acute and chronic conditions including stress related conditions, digestive disorders, sleep disorders and hormonal imbalances, also it relieves digestive disorders, tension, improves circulation and helps promote the natural function of the body.
Please contact the therapist directly for more information or to book.