Hypnotherapy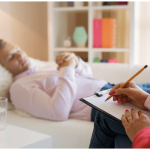 Booking Information:
£60 one hour sessions
Contact Ann direct to book
07984 268975
Ann ("The Wellbeing Practitioner") is a qualified Hypnotherapist, Reiki (USUI) Energy Healer, and Sound Practitioner, with over a decade's experience.
Hypnotherapy is an adjunctive technique that utilizes hypnosis to aid in the treatment of
specific symptoms or health conditions.
Hypnotherapy works by inducing a hypnotic state marked by waking awareness that
allows people to experience detached external attention and to focus on inner experiences.
It is sometimes used as part of a treatment plan for phobias and other anxiety disorders.
It is also sometimes used for pain management, weight loss,
smoking cessation, and a variety of other applications.
Ann tailors each session to the client's needs and requirements. You will leave the session feeling wonderfully held, connected, restored, and 'present'.
Contact Ann at  lotusflowerwellbeing@gmail.com to book a free 15-minute call over Zoom/Teams, to explore which treatment or package is suitable for you.
Ann is also offering
Hypnotherapy

Neuro-linguistic programming (NLP) 

Breathwork

Reiki Master Teacher – Teaching & attunement of Reiki 1,2,3

Reiki (USUI) with crystals and sound healing

Reiki Drumming Healing, Journeying  

Angelic Reiki

Sound Therapy

Shamanic Energy Healing, Journeying, Past life, Soul Retrieval, Ancestral Healing

Meditation incorporating Cacao ceremony