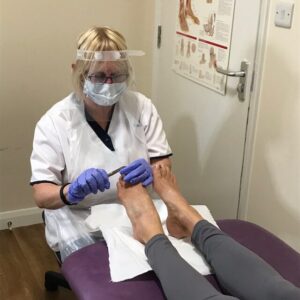 Booking Information:

Call  to make an appointment with Linda on 07715503884
  Harris Foot Health with Linda Harris
Podiatry / Chiropody
This is a treatment of the feet and their aliments. We all rely on our feet and often take them for granted. The average person takes 8,000 – 10,000 steps a day which can equate to over 100,000 miles in a lifetime – that's four times around the world. It's not surprising then that sometimes foot related problems can develop over time through illness and disease, poorly aligned bones, injury from sports and exercise or poorly fitting footwear. Despite this, foot pain is not normal and the good news is that it can generally be treated. Don't feel embarrassed or self-conscious, you can rely on a good Chiropodist to put you first and happy to discuss in confidence any problems you may be having.
Linda qualified as a podiatrist/chiropodist  in 1985 and worked in the NHS  for 18 years specialising in diabetic footcare.
In 2004 she had the opportunity to become the lead podiatrist at the John Lewis Partnership working to look after all the staff in the business, taking care of their acute foot and musculoskeletal problems and advising on their footwear issues.
In 2018 she was privileged to be awarded a Fellowship by the College of Podiatry and Podiatric icons to acknowledge services to her profession.
After 14 years of communing into central London from Bexhill, she is delighted to now only travel a mile to the Body Junction to now care for feet in the Bexhill area.
 Linda can be contacted on 07715503884