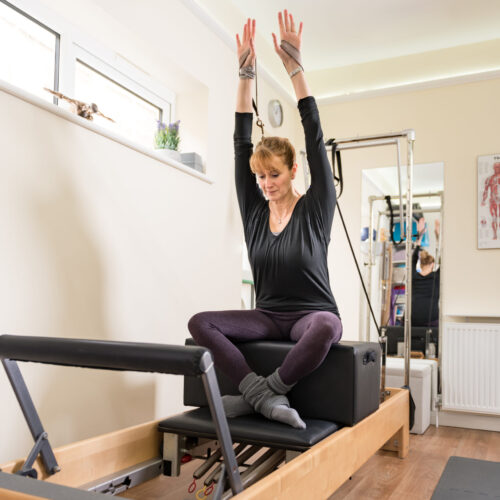 Booking Information:
60min 1 to 1 session with Charlotte, Katy, Lucy or Daisy
£45.00 please phone 01424 215300 to book.
Pilates 1-2-1 Tuition
If you are not so keen on attending a mat class with others or feel that you would enjoy a more personal Pilates class, then a 1-2-1 class would be suitable for you. We offer private individual classes aimed at guiding you through Pilates in a progressive way.  We begin with a detailed consultation, offering an ideal space we work on developing and deepening your practice in Pilates. You will have access to a qualified Pilates teacher who will have in-depth knowledge and experience within their field.
We can tailor your Pilates 1-2-1 session to your pace, the content and focus on the areas of your body that you wish to work on.
Reformer Pilates

This form of Pilates is provided using the Pilates reformer machine and half trapeze, these are generally more intense and more dynamic than mat based Pilates. You will lay, sit or kneel on a bed like frame with a flat bed on it. You will complete Pilates moves but using resistance via the reformer, using its springs, straps and foot bar which forms the machine.
Pushing and pulling against this resistance using our legs or arms and body weight will help with general strength building.
If you would like more information then please call us. You can book your session over the phone.